This morning I drove to work as usual. At some point I suddenly saw a blackbird fly off. It carried something in its beak. The something was a plastic bag it had found in a field. Birds should not find plastic bags in fields. Plastic bags are bad news for animals and I loathe people who toss their 'useless' plastic bags down wherever they stand. They don't think. These people have no idea what they do, no respect for life.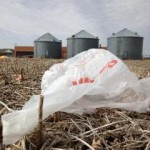 I can only hope that this blackbird used the plastic bag for a nest instead of trying to eat it. The latter would mean certain death  for a beautiful, innocent animal, thrown away by some idiot that doesn't stop to think.
Is this what modern society turns people into?