America. Since it's in the news.
I didn't watch the in-ogre-ation yesterday. That was a good decision, everything happened without me just as well.
This morning I was curious. About the @potus twitter account that now is in the twitter-capable hands of one Donald Trump. (Interestingly his original twitter account, https://twitter.com/therealdonaldtrump) doesn't exist any more.)
Something struck me. Let me show you: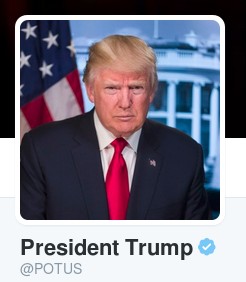 Does this man strike you as a kind man? As someone who is happy? As someone who... cares about you?
I really would like to know, because I don't think so. Not at all. He looks troubled in this image. Unhappy. Uncertain even. Not the qualities I'd look for in the leader of one of the biggest countries in the world. A country that has to become great again under the guidance of this man.
I have read about the first moves that will make America great again. According to Mother Jones, "the administrative order will end Obama's efforts to cut premiums on FHA-insured home loans".
In practice, this means that low-income homeowners will be stuck paying higher insurance premiums on their FHA-insured mortgages.
That's probably great in itself although I fail to see how. Next to that, George Takei reported this:

Let's hope they will be replaced by something even better.
Let's see how event unfold. We may yet see a shimmer of light on the horizon.