Camille and Kennerly. Harp Twins.
Yes, as you may have guessed, this post is about music. For me music is an important part of life. Without music (and my writing) life would not be life as I now know it, and much less valuable.
This post is about 2 ladies I discovered through the marvel called Internet. They are twins and they both play harp, and their names are Camille and Kennerly. Many people will perhaps stop reading here, but they won't know what they miss.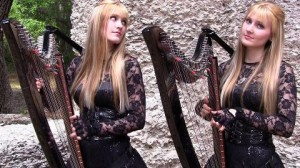 Harp? Yes, harp. It's a beautiful instrument. I never played it, but I have lots of harp music ranging from Händel's harp concertos via Lisa Lynne Franco to - indeed - Camille and Kennerly, and how these two ladies make their harps sing is amazing. For example this song, Asleep, by the Smiths (tip: listen with proper headphones to get the most out of the music!):
http://youtu.be/aBj940EpAEs
Before you think that harp music is only for the slow, the sullen and the sleepy, have a taste of this: Don't fear the reaper, from Blue Öyster Cult. (Sorry about the off-site link, for some strange reason this video won't show here.)
This too can be done with harps. Disappointed that there are no screaming double-speed electric guitars? If so, remember that they play harp, not double-speed electric guitars.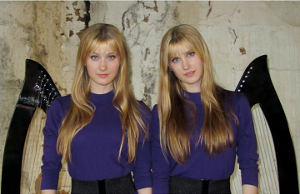 So, what is so special about these twins? First off, they're twins who both share a passion for the same instrument. Not so common, I think. Next is that they are independent artists, not signed up with any big label, not sponsored by large amounts of money. They do everything themselves, which strikes a chord with me being an indie writer. Indies do everything themselves. Everything:
Harp transport. Hello dolly!
They even move their own harps into the most impossible places, and they arrange their own videos. And, as they told me on their Facebook page, they once shot a video in a field where they were almost consumed by mosquitoes. One cannot other than appreciate such dedication. As indie artists they are also very approachable via for instance Facebook, they like very much to interact with their fans. And they have plenty of those (but there's always room for more).
For Game of Thrones fans (count me in), they did a wonderful rendition of the title tune!
http://youtu.be/iyeKTMBFeyE
If you want to learn more about the Harp Twins, you can visit their website at Harptwins.com, or their Youtube channel. Their music is available through itunes and CDBaby.
All photos used with permission of the Harp Twins. Thank you for that, ladies!