Proteus Biomedical has developed chip-in-a-pill technology that transmits patient data directly to a smartphone.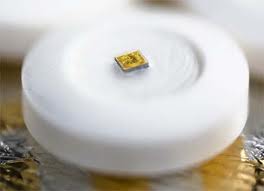 Some people will say that this is awesome, amazing, magnificent. Of course, as a technological breakthrough this is something very clever. This invention gives doctors the closest and most direct way to go inside you and find out what's the matter. A nice detail here is that "It's biodegradable, made from things in your diet, that is activated by acids in your stomach to send out a very super-low-power, digital signal that's picked up by a patch that's worn on your arm, that might look like a nicotine patch. ... And from that device, it sends a signal to an app for your iPhone. From there, you've got the Internet. You can send the information to your doctor, to caregivers at home." (Reference: NPR.org.)
But there is a backdraw. Not perhaps in this application as it is now, but think what could happen: you get this nice little pill with a chip, to find out what is ailing you. The doctor measures and extracts your signal. And then, instead of dissolving, the chip stays inside you, happily sending out signals. Such a nice way for the world to know where you are when you don't have your mobile phone with you (or switched it off). And you would not know it.
And let's take the paranoia a bit further. The worst scenario that can come from this would be control. Suppose there is this little chip inside you, or perhaps a few of them after subsequent pills, that can be used to control you. Subdue you when you are making trouble (whatever is seen as trouble), or turn you into someone you are not (going wild here, but nothing is outside the realm of possibilities with this). Someone flicks a switch and you turn into a killer? Not a nice thought.
This all may sound far-fetched but... remember the panic and the state of mind after the horror of 9 / 11 in New York happened? I have seen footage where people claim they would gladly get a chip in their body so they could be identified/located in a case of emergency. With pills like this, that future might not be far away.