Ik ben lid geworden van de Blije B, ook bekend als de United People Foundation.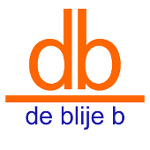 Hoezo bekend? Nooit van gehoord. Ja, dat kan. Het is een initiatief van een gedreven groep mensen uit de financiële wereld om een nieuw soort bank op te zetten, een die eerlijker met geld omgaat dan wat we nu hebben.
Ja ja, mooie praatjes, dat wordt niks. Dat kan. Het succes van deze nieuwe bank hangt af van het aantal medestanders, supporters en donateurs. Als je niks probeert dan gebeurt er zeker niks. Daarom heb ik een ELC aangekocht, een Eeuwigdurend Leden Certificaat.
Tegen de grote banken kan zo'n clubje toch niks uitrichten! O nee? Heb je het al eens geprobeerd? Iedereen heeft te maken met banken en geld, en iedereen ziet zijn of haar voorraadje centen verdwijnen als sneeuw voor de zon. Iedereen loopt meer en meer schulden op, en als de regering nieuw geld in de verslindende "economie" stopt zijn dat ook weer meer staatsschulden. En wie mag dat dragen? Juist. Wij. De belastingbetaler. Wij zijn ook schuldhebber. Iedereen loopt te mauwen over de problemen. Ik doe iets. Mauwen helpt niet. Wil je meer weten? Kijk eens op http://www.deblijeb.nl of http://unitedpeople-foundation.org.

(Logo's gebruikt met toestemming.)