Earliest placental mammal
I stumbled over this neat article on BBC News:
The creature that gave rise to all the placental mammals - a huge group that includes whales, elephants, dogs, bats and us - has at last been pinpointed.
An international effort mapped out thousands of physical traits and genetic clues to trace the lineage.
Their results indicate that all placental mammals arose from a small, furry, insect-eating animal.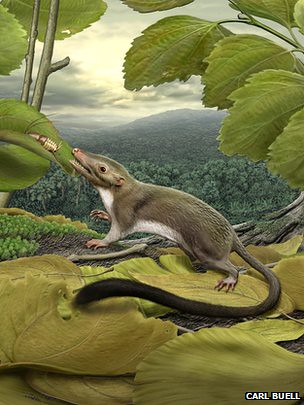 A report in Science resolves the debate as to when the creature lived; it came about after the demise of dinosaurs.
That had been a hotly debated question over years of research.
Placental mammals - as opposed to the kind that lay eggs, such as the platypus, or carry young in pouches, such as the kangaroo - are an extraordinarily diverse group of animals with more than 5,000 species today. They include examples that fly, swim and run, and range in weight from a couple of grams to hundreds of tonnes.
A wealth of fossil evidence had pointed to the notion that the group, or clade, grew in an "explosion" of species shortly after the dinosaurs' end about 65 million years ago.
But a range of genetic studies that look for fairly regular changes in genetic makeup suggested that the group arose as long as 100 million years ago, with mammals such as early rodents sharing the Earth with the dinosaurs.
'Tree of Life'
Deciphering the very distant past on the basis of fossils and animals that are around today is inherently a subjective business.
"Comparative anatomy" - in which, for example, the forelimbs of a number of fossils are compared to establish which are most closely related - was the entire toolbox for the earliest palaeontologists. The era of genetics ushered in a more incisive tool to compare similarities across species.
But the new work tackles the question of placental mammals in unprecedented detail, developing a database of physical and genetic data some 10 times larger than any used previously - and taking a decidedly modern take on it.
"Anatomy and research in palaeontology had a very 19th Century veneer to it - that we would sit in small groups in a lab with a fossil describing it," said lead author of the study Maureen O'Leary of Stony Brook University in New York, US.
(Entire article at BBC News.)