Today I visited an optician who can supply Enchroma glasses. It was an interesting experience.
What is Enchroma?
For that you need to know what is colour blindness. Most people probably know what it is. A colour blind person has a visual defect or deficiency that makes it hard to distinguish some or many colours.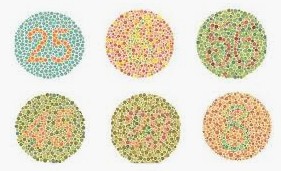 The above image comes from colourblindness.com.
If you see six numbers in the above circles, you're probably not colour blind. I see 25 in the top left one, the one next to it has 'something' in it, and that's where my numbers end. So yes, I'm colour blind (or for the politically correct: colour challenged).
Now there is a company called Enchroma that has developed all kinds of glasses to help colour blind people to see more colours, colours better or at least enhance the experience. I had my experience enhanced today.
The glasses.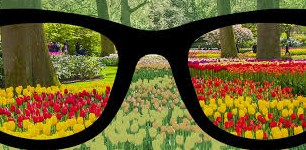 There are two types of glasses, named after the two most common types of colour blindness. Protanomaly and deuteranomaly. Both are for red/green correction but in different ways. (Ask your local specialist about specialisation.) Each set they had had 3 strengths: mild correction, moderate correction and strong correction.
The mild one did barely anything for me, so that was off the list quickly. Outside we went with the other two. First I tried the 'strong' one. It wasn't the colour explosion that some people on videos mention to see, but this means nothing. As the salesman said, there are no two people identical. What works for me might not work for you, or the other way around. The strong type put everything in an exaggerated red hue for me, which didn't disappear after several minutes. Also, my perception of colour didn't change very much. Red was redder. In the clouds, I saw a bit more detail. In the leaves of trees, I saw a little more contrast. Obviously, that one wasn't for me.
I tried the glasses with moderate correction. The overdone, red hue wasn't there. Green and red were greener and redder than without, but not to the degree that I was stunned. Next door was a shop with a very colourful poster on the window. That had, indeed, more colour than I could see before, but it was a very confusing experience since I had no idea what I was looking at.
The moderate glasses were far less 'obnoxious' than the strong ones but apart from a bit more contrast and very confusing shades of colour, there wasn't anything in it for me. I tried them a few times, inside and out, in sunlight and with clouds (yay Dutch weather for versatility on a 3-minute basis).
The result
After taking ample time to try the different kinds of glasses I decided not to buy them. For the price (they aren't cheap) they just don't do enough for me. Again, this is me.
In the shop, there was an older man who had them for a week and loves them (he was there to have something adjusted a bit). There was a young man, about 11 I think, who was so surprised at suddenly seeing all those colours. He and his Mum left with glasses, happy as a camper could be. Great for them.
That's why I insist this is a very personal thing. Don't rely on my experience to decide it's not for you. If you feel your life can do with a colour boost, find an Enchroma dealer near you and go there. Try them. It's free and it might just change your life.