Publii. Content management.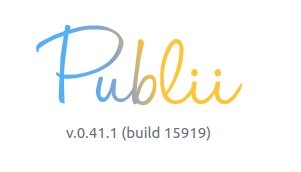 I've created this post with Publii. Actually, the last set of posts here are made with it.
My site used to run on Wordpress. Wordpress started out a great system to do things, but lately - at least for me - it turned into a slow, cumbersome hassle to maintain, log into and keep safe.
Even an insignificant site like this one needed the Wordfence plugin, because of over 300 attacks and hacking / injection attempts per week. I had enough of that, so I looked around for another CMS (Content Management System). Drupal and Joomla are as much overkill as Wordpress, so that wasn't my way to go.
Enter Publii.
Publii has a Wordpres importer. It's not perfect, but it pulled all my posts in pretty nicely. Some things aren't up to par yet, but we'll get there with some manual adjustments (like displaying videos).
Publii creates HTML files that it can upload to your host. You created pages and posts from your own computer (Linux, Windows, Mac), hit Update Site, and that's it.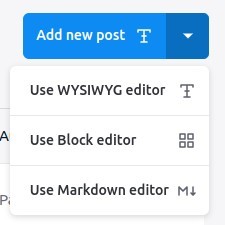 You created pages/posts in 1 of 3 options: a WYSIWYG editor, a block editor somewhat like Wordpress, or through Markdown. No need to worry, you can create each page through its own, most convenient editor. Note that you can NOT change editors for a page after it's created. What started in block editor, stays in block editor.
Publii doesn't support PHP, so if you need forms, you have to look for a plugin solution, or do some PHP trickery yourself. I discovered that forms text-areas aren't supported for some reason, where single-line text fields work very well:

Create this kind of pages with the block editor, which has an HTML block for things like these. The WYSIWYG and Markdown editor may have this too but I haven't found it yet.
Another nice thing in Publii is that it has a built-in backup manager. Go to "tools and plugins", click "Backup" and make a backup. Restoring a backup through the same route is very simple.
Plugins.
There are several plugins available for Publii. Commenting options via Comment.io, Disquss, analytics via Google and a few others, a search plugin, etc. Check out the marketplace for a good overview, and the Themes page for all available themes. Note that not all themes and plugins are free.
Publii itself is free, although a donation is appreciated (and worth it!).
If you're getting tired of Wordpress, give Publii a try. Create a test site, play with it. You can get Publii at getpublii.com.