Ubuntu 12.04 and Cinnamon
I switched window-managers. After setting up Ubuntu 12.04 I went with Unity for a while, did not feel okay with that and moved to Xubuntu. That was not the real deal either so I went back to Unity with which I made a kind of peace.
Then I read about Cinnamon on the blog of a techie friend of mine.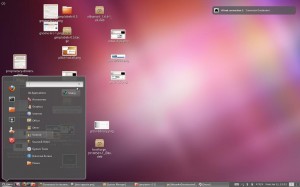 Cinnamon desktop - click image for a larger view.
Basic ingredients for setting up Cinnamon on Ubuntu (12.04, should also work for 12.10):
sudo add-apt-repository ppa:gwendal-lebihan-dev/cinnamon-stable sudo apt-get update sudo apt-get install cinnamon
Enjoy!
If you want to see/read more about Cinnamon first, try Wikipedia or the Cinnamon pages over at Linuxmint.com.