Yellow glasses for driving at night.
Yellow glasses for driving at night.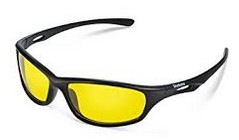 Yes. I got them. Yellow glasses for night driving. And they seem to work, which surprises me as I'm colour blind. I also have very light-sensitive eyes. I drove with sunglasses a few early mornings and that helped a lot but they do make things quite dark. How many people that read this use these yellow glasses as well? And do you think they're a great idea?
They are not a great idea.
No. These yellow glasses are not a great idea. They're a fix for a problem that the lighting industry should take on. This is a band aid for sore night-eyes.
If the need for this kind of glasses arises, that means there is something wrong with the light conditions at night. Lights that hurt and hinder people, creating the need for these glasses. That is the root problem of things in this case, and the best way to attack that problem is to change the night lights.
I'm not a light expert so perhaps my idea of using infrared or ultraviolet is ridiculous but perhaps there is something to be done with polarised lights, filters or something like that.
They are merely helpful, but...
These yellow glasses are helpful, don't get me wrong, but they are yet another expression of investing in materialism to make life easier. Life that's difficult enough to cope with when you consider everything that's going on in an average (if that exists) person's life.