Bose IE2 in-ear headphones
Yes, I went ahead and bought them. Even though they're pricey.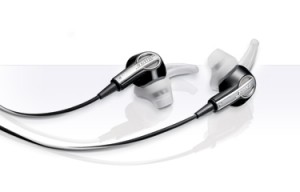 They do look a bit funny with the extra bit bolted on but don't let the looks fool you. These things are actually comfortable. That is something for me to say because I hate stuff stuck in my ears.
Finding the easiest way to actually put them in took me a while as I lack knowledge on sticking stuff in my ears. It was even a bit of an odd feel to have these additional bits there but they keep the headphones in place and I very quickly didn't feel them any more.
Then something odd happened: I didn't like the sound. Bose has the name of producing good bass sound. There was hardly any. Mid range was okay, high tones was mostly okay, but bass was as absent as a shark in the average bowl with goldfish. That was weird because the foldable Sennheiser PX-100a that I own produce quite a good bass on my phone.
Good thing I have another phone. The Meizu MX-5 Ubuntu. Yes, it's a phone that runs on Linux. I have some music on that and so I tried the IE2 on that. Wow. Difference? More than that. The world of music opened again. Clearly the headphones were not the problem but the phone was. I tried another music player. That worked a lot better so the problem had to be the player I usually use. It took me some wiggling and experimenting until I discovered a few well-hidden settings. Switched on enhanced clarity and enhanced bass.
I'm happy now. :-)