Mijn jaarlijkse donatie. My yearly donation.
(English text further down.)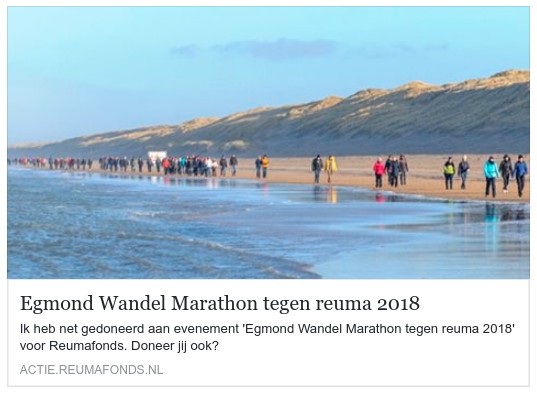 Elk jaar tegen het eind van het jaar kies ik een goed doel en daar geef ik een mooi bedrag aan. Drie keer raden welk het dit jaar was. (Als je meer dan 1 keer nodig hebt moet je echt eens beter opletten.)
Ik doe dit in plaats van kerstkaarten. Die zijn goedbedoeld maar komen uiteindelijk in dozen en bij het oud papier terecht. Zonde van het papier, de inkt en de moeite van het versturen.
Steun je deze actie ook mee? Kijk op https://actie.reumafonds.nl/
====
Each year towards the end of the year I select a charity and donate a nice amount to them. This year it was the Dutch research foundation for rheumatism. I do this instead of writing and sending Christmas cards. I know everyone means well with those but in the end they are tossed away which is a waste of paper, ink and the money for sending them.
If you care to support me in this donating to this charity, please go to https://actie.reumafonds.nl/ (google translate or some other online system will assist you in navigating the site).