Purple is a figment of people's imagination.
Really. Believe me. I know this. And why do I know this? I have never seen it. That is why I don't believe in purple. It's amazing how many people are convinced that it does though. Even when I ask Google to show me 'purple' it comes up with something:

This can't be purple. I see 3 entirely different things but none of them is purple (apart from the actual word purple). For me these consists of "I don't have a clue".
My popular witch Hilda will hate me for this. Her favourite colour is purple as well while for me it's not real.
Why do I state that purple doesn't exist?
Because I'm colour blind. (Note to ignorami: colour blind doesn't mean that I see in black and white. Colour blind is a stupid, wrong name for the fact that many people can't see all the colours that are around.)
Purple to me is a word. A concept that other people's eyes make them interpret as a colour. That also goes for stuff like mauve, beige, pink and other pastels.
It's the same thing with religions and gods. Those to me are concepts that in other people's eyes signify something. A kind of creature, a colour I can't see. For me it's not real.
If you feel that a god is real, that your religion is real, be happy with it. Just don't expect me to see it the way you do. I'm religion blind in the same way I'm colour blind so I see things differently from how you do.
A test.
Do you see a letter or a number up here? Yes? Great. You can see your god. I just see a lot of little circles of a doubtful colour (green, brown, grey?) which make up the totality of a ball, a sphere. This is how I see my world, my surroundings. I don't have a god colour to tell me what's what. I can look at the whole of evolution, the world, space, the other planets and stars, and take those as the ball up there. Doubtful colours, but definitely a shape I can appreciate. In the entirety of the cosmos there are probably more colours I can't see. More colours that you can't see (beyond ultraviolet, beyond infra red, into the electromagnetic ranges). You are blind to them as I am blind to your precious colours.
I'm happy with that. I know what to expect. I know there's more out there than I can see which is fine. As long as people respect that and don't try to make me 'see' what they see (because again, I'm entirely blind to that) we're all in harmony.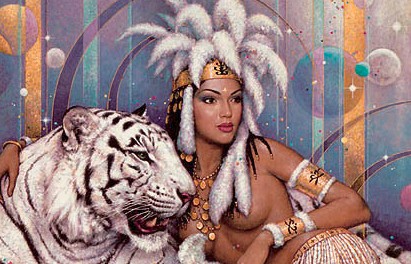 If you try to convince me that your god is the one and only, and that she's black, has horns and teeth that would make a tiger jealous, then I will shake my head and walk on. Be happy with your tiger tooth god. It's not mine. I don't see it. It won't bother me and if you're a good follower it won't bother you.
So please don't bother to bother me with it.