Yes, I went for the real thing. I bought a Synology NAS (model DS 214).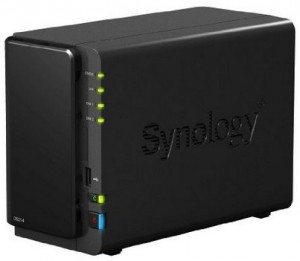 It's a brilliant thing, with a very powerful yet simple management interface called Disk Station Manager (DSM). The unit is very easy to assemble (adding the 2 disks didn't even require a screwdriver), runs flawlessly and is very quiet.
Access goes through a UTP cable to the router and after setting up the volume/shares and privileges it's immediately recognised by everything on the network.
A very nice feature is the CloudStation which turns the NAS into your personal cloud. It works really well. At first I wasn't set on using it constantly. Why? Enabling that feature cranked the NAS's CPU up to 100% and also there was constant disk activity, even when no one was accessing the 'cloud'. I sent a question to Synology's tech support about that, wondering if this was something abnormal. After about a day it all calmed down, no more disk activity, drives went to sleep after 20 minutes, and everything's fine in private cloud land. If you consider a NAS, I can recommend Synology.