Transportation. Time for change.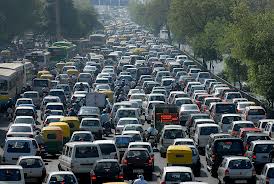 Something has to happen. The picture here is one most people know and recognise. Have you ever sat in such a mess? If yes, I pity you. If not, then how on earth did you manage that?
We are all the slaves of fossil fuel. Diesel, petrol, whatever kind your vehicle likes, it is there for you, and the prices go up and up and up (and down a cent) and up some more. The only ones who thrive on that are the big oil companies. And they know that the reserves of their liquid gold are diminishing, so they are pushing up the prices some more to make as much in their lifetime as they can. All under the guise of wars in oil-producing areas, cost of labour and more of that.
We need to look at the other options much more. Individual transport is the holy cow of the western world. Go electric. Oil companies try to stop electric, but they are failing (finally). They also blocked hydrogen cars for very long, hopefully that is going to fall and fail too. A better form of public transport, smaller units transporting people more flexibly to more places. Electric trains, maglev trains. Oh, of course, that costs bundles of money, but it is an investment in the future, one that will keep its value. More roads, more asphalt, preparing for more fossil-fuel devouring machines is an investment for the short term. A waste of money. We have to look forward.