What do you think about naturism? And what do you know about it?
Naturism. The internet is loaded with it...
...but it's not naturism.
According to the internet at large, naturism is sex, porn, bad stuff, naked people doing 'the unmentionable' (whatever that is, because there are plenty of words - check any dictionary). The internet is quite clever, but the people filling it often aren't using the right words for what they're spreading. Unfortunately, using the 'wrong' words is the best way to attract lots of visitors.
Then what is naturism?
Let's have a look at Wikipedia:
Naturism, or nudism, is a cultural and political movement practising, advocating, and defending personal and social nudity, most but not all of which takes place on private property. The term may also refer to a lifestyle based on personal, family, or social nudism.[1] Naturism may take a number of forms. It may be practiced individually, within a family, socially, or in public. Additionally, there is also militant naturism, including campaigning, and extreme naturism is sometimes considered a separate category.[2]
Right. You may notice something here. There's talk of 'nudity'. Yup. Part of it. There is no mention of 'sex' or 'porn'. Correct. That's not part of naturism (nor is it of nudism but let's stick to one word for now to prevent confusion).
America: what does the AANR (American Association for Nude Recreation) have to say about it:
Our Mission: Simply put, we exist "To advocate nudity and nude recreation in appropriate settings while educating and informing society of their value and enjoyment."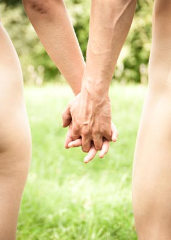 Recreation. Yup again. Nude. Yup again. And no sex, no porn, although (still) the internet is loaded with it. Go to images.google.com, look for 'naturism' and prepare for what you'll be shown if safe-search if off. That is not naturism. That is porn and sex and what-not.
Safety check: did you know that? Did you know the difference between naturism and porn? Honestly?
Britain: What does the British Naturism site say about it:
Naturism is the practice of going without clothes - whether that is just occasionally at a beach or in your garden, or as a more general part of everyday life. Naturism is healthy, sensible - who wants to wear clothes when the weather is hot – and great fun!
Gosh darn, still no mention of porn or sex. Is that disappointing? Instead there's a sensible thing there: who wants to wear clothes when the weather is hot? Now I hear some folks say that we have air conditioning for that, which is the clever thing to use.
Yes, it's smart to spend money on clothes

that make you feel warm in summer, so you spend more money on a machine that cools you down artificially!
And why do people do that? Because they've been taught (indoctrinated, culturally branded) to believe that being nude is bad. Offensive. Not healthy. I guess that is why babies are born with nappies on instead of naked.
And who started this oppression in the civilised, Western world?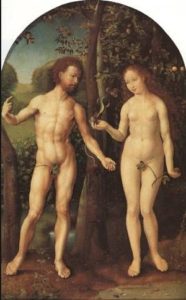 Was it the Christian God who created Adam and Eve "in his image"? After all, he put them in a garden, naked and all, and watched them. Adam and Eve therefore were the original naturists as they lived that way and enjoyed themselves.
Oh. Wait. God watched them. Was he the first God-person to watch porn then? Is the internet right after all?
Let's assume that isn't the case.
Through some trickery Adam and Eve were evicted from their garden and covered themselves in shame. So being naked is shameful from then on. Check. Wearing a fig leaf apron was the first step.
The clothing industry happily jumps on that bandwagon, and certainly the swimwear fashion designers.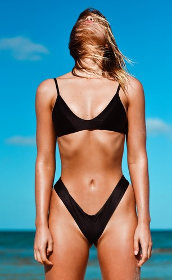 This must have been very comfortable in the Victorian era. I wonder... would you care for that? Or do you think modern swimwear is better?
I'd say: go for the Victorian ones. At least they keep you warm so long they haven't been wet. These flimsy things don't help anything in keeping you warm - not even in the water. And don't they feel great when you get out of the water? Wet and clingy and getting cold fast, even when it's warm? (By the way, lots of swimwear fashion resembled a fig leaf, in amount of cloth, for a while. Did you notice?)
Body acceptance
No. It's about time that people rediscover naturism. Being naked isn't bad. Being brain-washed to think that your body is ugly is bad. Making people think that they have to look like dolls is bad.
Remember: whether or not you believe in a god, you were born naked. If you believe/follow the fashion folks, you make them your gods. Look up body acceptance. Naturists accept their bodies. No one is perfect, and if someone tells you there is something like a perfect body, they lie.
Seriously... naturists are better off.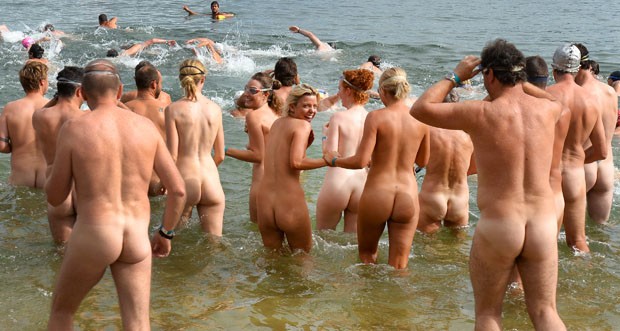 Did you know that? Or do you still think naturism is just a nice word for porn and sex all around? If you still do, please educate yourself. :)