Maybe you notice that there's "Theremin" in the title, not "theremini", just like in my previous post.
Even though I own a Moog Theremini, I don't intend to use it as that, but as a practice-theremin.
Something I discovered on the fifth day of owning the device is that I despise the pitch correction.

This is one of the biggest sales pitches (pun intended) for the theremini. It makes it nearly impossible to miss a correct note.
This is how automatic pitch correction sounds and works. Go ahead, click it. It doesn't sound bad at all.
And still I plan on not using it. This amazing feature makes it not sound like a theremin. A theremin needs the sweeping sound, as if it's a human voice.
Okay, okay, after only a week of owning and attempting to use it, I probably am having too much of an opinion already, but this is how it feels to me. After having seen hours of theremin videos (there's more than you might think) and hearing many hours of the sound, the pitch correction is not theremin. Unfortunately (for me), most of the Theremini's presets are loaded with that pitch correction built in. Enter the sound librarian/editor.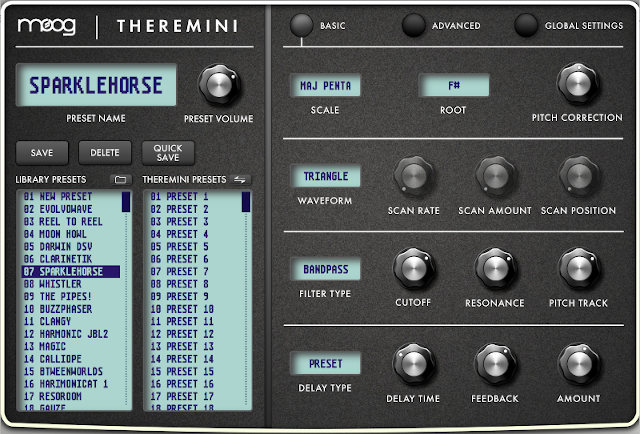 With this nifty program I will be able to change everything I think could be improved. But before that happens, I will make myself master the Theremini some more.
Here is a short clip I made after owning the instrument almost a week.
All the usual warnings (own risk, etc) apply.
I'm amazed by the sensitivity of the pitch antenna. I read somewhere that you play the theremin with your whole body, and it's true. Move a foot and it affects the tone. Sway with your upper body just a bit and it affects the tone. Impressive and intriguing.
Challenge, again, accepted.